SEA LIFE Bangkok Ocean World
Formerly known as Siam Ocean World, the largest aquarium in Southeast Asia has recently had a makeover, and is well worth a visit!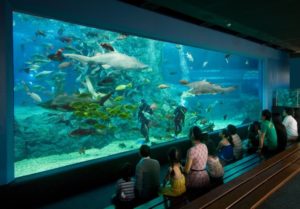 The Ocean World consists of 30,000 fascinating creatures from across the globe in several different zones, each representing a unique aquatic experience. I begin my tour at the Rocky Hideout where you get to meet some rare are weird-looking creatures such as giant spider crabs (genuinely huge and scary!) and giant pacific octopus going about their day.
I spot some interesting looking seahorses at the Seahorse Kingdom and continue onto the Tropical Rainforest section. Here you get to immerse yourself in a lush rainforest while listening to the soothing sound of waterfalls. Giant freshwater fish called arapaima live here, as well as a group of loveable and entertaining short clawed otters. The otters are a big favourite among kids I'm told, and it's easy to see why!
From the rainforest my journey continues to Tropical Ocean, an 8-metre high aquarium with panoramic views of beautiful coral and several different species of fish. Here you can spot creatures as exotic as the hump head maori wrasse and black-spotted moray eel and also learn about the importance of marine conservation.
Next up: penguins. Who doesn't love penguins? The Rocky Shore is home to some cute jackass penguins, also known as African penguins. I arrive just in time to catch the feeding show and get to watch these adorable creatures flap and wobble about after their fish. They are fun and simply adorable!
Ocean Tunnel, a spectacular 270-degree underwater passage, which lets you come up close to all manners of fascinating sea creatures as you literally walk through the ocean. Sharks, stingrays and exquisite fish in all different colours swim by to say hi. An absolutely mesmerising place and definitely one of the highlights.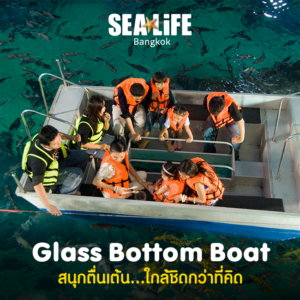 There are also extra activities that are not included in the ticket price, but that are worth considering such as diving in a shark tank, riding on a glass-bottomed feeding boat, behind the scenes tour and even a 5D cinema. Whilst you don't need any previous experience to dive with the sharks, you do need to book at least a few days in advance. I'm very tempted to try this, but considering my time and budget, it's going to have to wait for another time.
There is a queue for the glass-bottomed boat ride, but I've heard that it's well worth it, so I decide buy a ticket and wait. A little while later, I'm sitting on the boat floating across the surface of The Living Ocean while sharks, stingrays and fish swim by underneath. Some of them come really close, their proverbial noses virtually pressed up against the boat's glass.  You can get a professional photo taken during the ride and get the option to purchase it at the end. You could even have it turned into something like a magnet, which would make a nice souvenir if you came with a family.
The Behind the Scenes Tour represents a more educational side of the experience and lets you see how the place works. We explore the aquatic Nursery Centre, check out some real-world ocean exploration equipment and get to see how the animals' food is prepared and how water quality is monitored.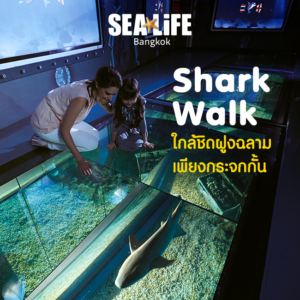 Sharks are a big attraction here, and I get to admire some pretty menacing-looking sand tiger sharks from behind the glass at Shark Shipwreck. After spotting some colourful jellyfish calmly floating in the sea at the Jellies zone, I get a chance to visit yet more penguins at the new Penguin Ice Adventure. Unlike their African cousins, the Gentoo penguins are from the Antarctic, and here you get to observe them in their arctic habitat, filled with ice and snow.
My visit has taken me a couple of hours, but there is so much to see and do that you could easily end up spending half a day here. There's definitely something for everyone here, so whether you're looking to spend a couple of hours with a friend or somewhere to take the kids, I'd say the SEA LIFE Bangkok Ocean World is a pretty safe bet. And they have air con!
You can get discounted tickets from Bangkok Beyond. Contact them for more information.
People who read this also read: