Siam Niramit
One of the coolest things to do in Bangkok is take in the show at Siam Niramit.  Performed on Asia's biggest stage, it is one of the most impressive musicals in the world, but the ticket to the show actually buys you quite a bit more.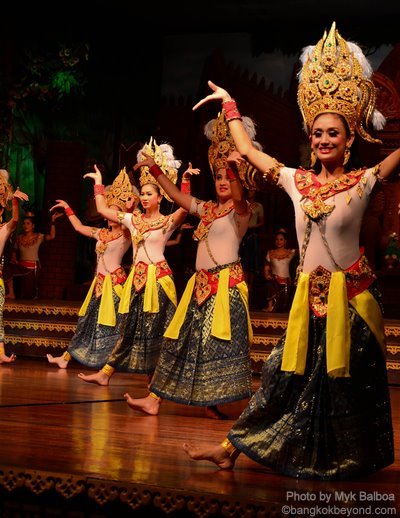 The complex where the show goes down is actually huge and has a number of outdoor attractions in addition to the theater itself.
So, while the show(and we'll get to that in a minute) doesn't start until around 8, the gates open 3 hours earlier so you can get in and check out some of the other stuff.
That other stuff is a really excellent mock village that showcases the traditional lifestyles, art, and distinctive cultural practices of the 4 regions of Thailand, some very chilled out elephants for the kids or more playful adults to ride around on, and practitioners of traditional Thai massage.  Elephants and massage are all over the country, so let's focus on the cultural coolness….
The village has guides dressed in traditional clothes of the various regions giving demonstrations on the trades and activities of those regions such as the production of silk cloth in Isaarn and the almost spooky shadow puppets of the south.
I am a huge fan of the puppet shows, and insist that they are still the best medium for telling a ghost story and seeing one is an essential thing to do in Bangkok or anywhere in Thailand.
Siam Niramit the show is one of the most elaborate and brilliant choreographed stage performances on the planet, with demons and warrior monkeys doing battle fierce battle in mid-air.  The score is composed of various traditional forms of Thai music and beautifully performed.
It tells the story of the early rise of Siam as a major cultural crossroads where there was a great exchange of knowledge and information and then goes into sections of the Ramagiana (Ramayana to those familiar with Indian tradition) explaining the importance of Karma in Thai culture, and closes with a section portraying the making of spiritual merit through good deeds and how this effects the Thai people.
After the show, they put out an absolutely mind-blowing spread of Thai foods from all the various regions and traditions, along with an international buffet with western and Indian favorites.  I have never tried the pizza there (seemed a bit silly to me) but everything else is absolutely delicious.
This is probably one of the most educational and family friendly things to do in Bangkok.
Want to go? Send us an email Siam Niramit World Class Thai Cultural show for discounted tickets.
People who read this also read: