Somboon Seafood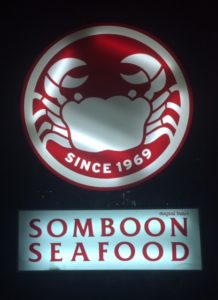 Somboon Seafood is a well-established chain of restaurants, best known for their signature dish, the fried curry crab. The original Somboon Seafood first opened in the Samyan area in 1969. Apparently, this is where the famous "Pood-Phad-Phong-Karee" originated, and the restaurant soon became very popular among the local Thai clientele.
In the 1990's a second outlet was opened in Surawong and the original restaurant moved to a new location on Bandhadthong Road. Further expansion was achieved with the opening of a third branch on Ratchadapisek Road. The Udomsuk branch was launched in 2001 followed by the return of the Samyan Branch in the original location, but this time in the newly built Chamchuri Square Building. A couple of years ago two new outlets on Central Embassy and Siam Square were opened, bringing the total number of branches to seven.
Oscar Wilde once famously said, "imitation is the sincerest form of flattery that mediocrity can pay to greatness", and it is perhaps a testament to Somboon's popularity, that it has had its fair share of imitators. However, in this case it is more of a case of unscrupulous imitators using Somboon's name to intentionally trick Thai people and foreign visitors into eating at their overpriced restaurants. Unfortunately, it seems that some taxi and tuk tuk drivers are involved in this by accepting commissions and taking people into these fake "Somboon" restaurants instead. You could add to that the fact that there are other well-known restaurants in town with very similar names such as Sompong Seafood, and it's no wonder it's easy to be confused!
So how about the food then? Well, you simply can't go wrong with the famous curry crab. This is essentially stir fried crab simmered in a thick, aromatic curry sauce with egg and green onions. There are other yummy dishes equally well worth trying too, such as the quintessentially Thai tom yum koong, deep fried grouper with crispy basil, fish maw with crab meat in gravy, roasted freshwater prawns with glass noodles or steamed fish with lime, chilli and garlic.
Prices are very reasonable for such excellent quality too. If you love your seafood like we do, you could do a lot worse than giving this place a try.  Just don't get caught out by a dishonest taxi driver on the way!
People who read this also read: