The 3 most famous night markets in Bangkok – Part 2
A few weeks ago I wrote about three famous night markets in Bangkok. Stopping there, however, wouldn't do justice to the flourishing night market scene in the city. Therefore this week I'm going to introduce you to a few more that I believe deserve your attention.
Khao San Road night market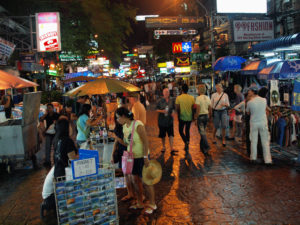 Practically a rite of passage for young backpackers, the infamous Khao San Road is where most of us head to after first getting off the plane in the land of smiles, with myself being no exception. In fact, I still very much have a soft spot for Khao San, even though my backpacking days are well and truly over. In many ways, the night market represents the quintessential backpacker experience. If you were heading to Southeast Asia with nothing but an empty suitcase, underneath the neon lights of this 1km strip of road you could get everything you could possibly need for your entire trip. Cheap T-shirts, beach wear and souvenirs tend to dominate, but lately a few designer clothing stalls have sprung up. You could, of course, have an entire outfit made to measure at one of the many tailor shops too. Being the backpacker centre, this is naturally a great place to book your flights or bus and train tickets for journeys to other parts of the continent too.  Whether you're shopping or just sampling the atmosphere, the cheap food and drink and the vibrant, friendly atmosphere make Khao San a great place to hang out for visitors and locals alike.
Khao San night market is open daily from 3 pm to 2 am.
Talat Rot Fai Ratchada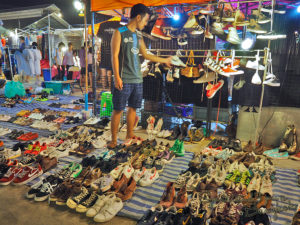 The new Rot Fai market at Ratchada is a lovely addition to the city's night market scene, maintaining the uniqueness of the original Talat Rot Fai while bringing it to a more convenient location near the Cultural Centre MRT station.  You can find a little bit of everything here. Although the focus is very much on antiques, one-off vintage items and retro memorabilia, it's also a good place to shop for cheap clothes and shoes, homewares, gadgets, mobile phone covers, pet accessories or seemingly any other thing you could possibly think of. The atmosphere is young and fun, with live bands and trendy bars making it a perfect place to hang out for an evening, whether on your own or with friends or family. Food is also a big attraction here, with grilled seafood being especially popular. And with huge sharing platters starting from about 400 baht, it's no wonder! A friendly, unique shopping experience that you won't forget.
Talat Rot Fai Ratchada is open from Thursday to Sunday 5pm to 1am. Take the MRT to Thailand Cultural Centre. It's located right behind the station.
JJ Green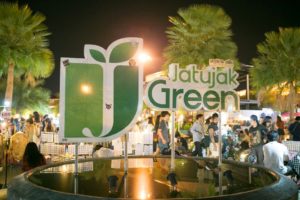 JJ Green weekend night market, also known as Siam Gypsy market, has been around for a couple of years now. While many come to JJ Green to hang out after shopping at the humongous Chatuchak market down the road, I personally prefer to skip Chatuchak and come straight here. I like it's funky and vibrant atmosphere. The crowd is mostly young and there's more of a local vibe than at Chatuchak. It gets busy, but the crowds here are not quite so daunting.  Shopping-wise, it's a mixture of old and new. Partly, it resembles a flea market, but there's lots of new stuff worth checking out too. Fans of vintage clothing and retro collectibles will feel right at home here. It's also a great place to find cool printed T-shirts and bags, cheap sunglasses and other trinkets. Prices tend to be reasonable and there's usually room to bargain, although the vendors may not speak any English, so it helps to come prepared with some basic Thai.  Besides shopping, it's a great place to try out some new street food or have a drink while listening to live music. The rooftop bars here are well worth checking out too.
JJ Green night market is open from Friday to Sunday, 5 pm until about 1:30 am. Take the BTS Skytrain to Mo Chit, walk through the park and look out for the big Jatujak Green sign.
Silom Road Walking Street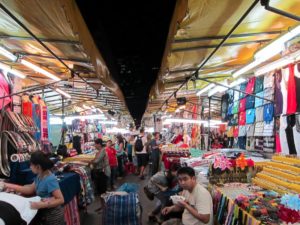 Most Sundays, one of Bangkok's most famous roads gets closed off for traffic from midday, making way for a Sunday market that stretches from Sala Daeng intersection down to Naradhiwas Road. With well over a thousand vendors and dozens of food stalls, this has become an increasingly popular attraction in the city. Unlike, say, JJ Green or Rot Fai, it's fair to say that the market at Silom Road is aimed more at tourists, and the items on sale tend to reflect that. If you're looking for something uniquely kitsch or vintage, this may not be your place. However, if souvenirs, high-street fashion, handicrafts or electronics are more your thing, you may have found just the right place. Street food tends to focus more on traditional Thai dishes, although, interestingly, you can also find a fairly decent pizza or kebab. There's usually some form of entertainment happening too, ranging from live bands to traditional Thai dancers. Its central location makes Silom Road Walking Street easily accessible, and while you might not find many bargains, it's an enjoyable, and surprisingly calm, shopping experience that leaves many shoppers coming back for more.

Usually on Sundays from 3pm to 10pm, although may be closed from time to time. Take the BTS to Sala Daeng or MRT to Silom.
People who read this also read: