Top Restaurants in Bangkok
Bangkok is one of the most heavily traveled hubs in Asia – from tourists to business people Bangkok is a frequent stopping point for travelers from every corner of the globe. Therefore it is not surprising that Bangkok's top restaurants are among the finest in the world, and some of the most novel.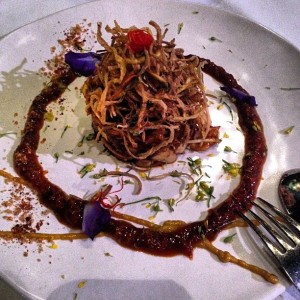 There are so many incredible restaurants in Bangkok that choosing the top picks is really kind of a silly exercise, but maybe I can point at a few of the better ones over several different styles.
So it's probably obligatory to include the Baiyoke Sky Buffet, though we won't spend much time on it. One of the city's many elevated dining/drinking spaces it is on top of the Baiyoke Sky hotel and rotates slowly, eventually providing a full 360 degree view of the city. The food's good enough, but nothing great. Major tourist stop. Now on to the really good stuff……..
Keeping it categorical two sweet spots that could be classified as the small, tucked away sort of place would be Seven Spoons at the intersection of Chakkrapatipong and Lan Luang Roads and SoulFood on Thong Lor – just a few minutes' walk from the BTS. Both are built into shop houses and would be easy enough to overlook, which adds to their charm really. Seven Spoons serves mostly Mediterranean inspired and vegetarian dishes, with a strong focus on locally sourced produce; the cocktails are incredible and unique too, I suggest asking for the mixologist's recommendation. It only has four tables, so you definitely need to book well in advance. Soul Food serves Thai and Fusion dishes in a really excellent atmosphere and bar.
This one is in the superlatives category of Bangkok's top restaurants – The Issaya Siamese Club. Ian Kittichai began his career as a child, pushing a food cart around his village in Bangkok. After receiving (and accepting) scholarships to some of the most prestigious schools in the world and becoming the first Thai national to take on the title of executive chef for a five star hotel, he is now one of Thailand's most international celebrity Chefs. His show "Chef Mue Thong", or Golden Handed Chef, is broadcast across more than 70 countries. Needless to say, his flagship restaurant is an experience unto itself.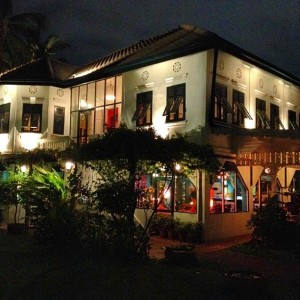 Issaya is an old house off of Rama 4, it's like you're walking into someone's private tea house. The lawn spreads out with low tables surrounded by bean bags and a chef's garden, welcoming you into a very traditional, high-class Thai culinary voyage. The interior of the place is equally captivating with deep blue and purple walls for the main dining room and the openness of the wood and rattan furnished second floor and veranda, all setting the mood to enjoy some of the most exquisitely prepared and plated Thai dishes from traditional high society all the way to brilliant modern twists on working class classics.
That's only four, and three are some of my own picks. Two things are to be remembered – Thailand as a whole loves to eat, and Bangkok sees more than enough travelers to accommodate as many world class restaurants as there are days in a year. You shouldn't run out of top ranking restaurants in Bangkok before you run out of days in your vacation, but I'll keep making suggestions just in case…..
People who read this also read: