Unknown Halal Hot Spots in Bangkok
In Bangkok, finding halal food is about as challenging as hailing a taxi. Thailand boasts a rather large Islamic population of its own, and being a major South east Asian business hub that population is made even larger by expatriates from all around the world. And it's not just an Islamic thing, everyone loves delicious food. And being host to so many expatriates and tourists from so many backgrounds, many of whom take particular relish in the fact that in Thailand you can enjoy the foods of so many countries and cultures, the demand for these places is even greater.
What's more "halal" only tells you about how the food is processed, handled, and what's in it. It doesn't, for instance, differentiate between food from Pakistan or Malaysia, Indonesia or Turkey, etc. With so many distinctions and so much choice it might be useful for me to share what I know about finding good halal food in the city. So humbly I offer what I know about good places to look for food, price ranges, and so on…..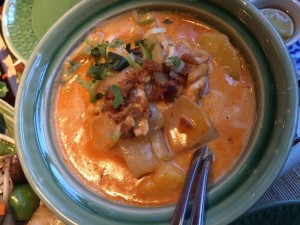 Markets
I'm a big fan of two things – low costs and variety. And for this, there is no better place to seek out halal food than at a market. I write often about the Iam Sombat market, at the intersection of Srinkararin and Onnut, not far from the malls Seacon Square, Paradise Park, and Thanya. It is especially cool if you're interested in stuff beyond just a good massaman. In the market under the canopy (the main fresh market) you can buy spices and preparations, dates and dried fruit, lots of nuts, and some of the best beef and seafood in the city (raw). There are also countless stalls in the area around the market with curries, fried stuff, sausages, desserts (so many of these), fresh, raw goat milk and goat milk yogurt, and lots of southern style clothing and Islamic decorations.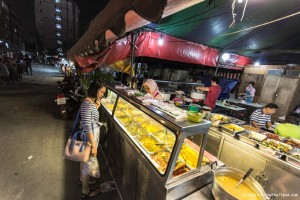 Another good market, nights only, is on Ramkhamhaeng right next to Rajamangala National Stadium. It also runs right into Ramkamhaeng soi 24, just where the street food stalls start to get good and dense. It is all tented stalls, and though there are some others in there, it's largely halal food. I was in Huamark earlier today to pick up some stuff for a stomach problem I've been dealing with and happened to notice that they are having a huge festival there at this very moment (written Saturday, 20th of June). Special for Ramadan, it will be running through the holiday, weather permitting.
Restaurants
I worked long and hard on finding a place that you wouldn't be able to pull up on a basic Google search but was more than worth your time in trying. I've mentioned Bamboo before, and the restaurants around Little Arabia. There are also a number of small, family places right next to the Rajamangala Night Market I mentioned in the last section. Turn left coming out of the stadium and cross the road when you see the Family Mart across the street. Walking down the soi next to family mart you'll see a number of bars, but to both your left and right as you go back through there you'll see about four different halal restaurants (one Japanese too). I've tried them all, the one towards the end of the soi is my favorite. Simple, cheap and good.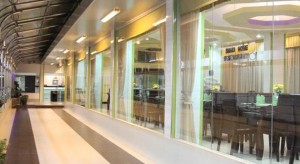 But the main entry under this, along with a suggestion, is a hotel. First of all, many of the nicer halal hotels have one or more restaurants in them that offer buffets. Really good ones. The hotel called Shadi Home in Pratunam.
Shadi Home is a small, well run, budget hotel. The rooms are apparently large and comfortable enough, though I've never been in one. I know and write to you about the restaurant. As the hotel is operated by Iranians it serves some of the very best, and most authentic Iranian food you can find anywhere in the city. Being in the heart of the Pratunam shopping district it is a restaurant I recommend particularly strongly for those who wish do some time wandering around and looking at stuff before and after the meal. Whenever I've eaten there I've spent at least an hour wandering the area around it afterwards, it's why you go to Pratunam, right? And if you're all hopped up on good eats and tea, there's all the more energy to spend exploring.
People who read this also read: