Vegetarian Restaurants in Bangkok
Travelling as a vegetarian in Thailand isn't always easy. Luckily, when it comes to dedicated vegetarian restaurants, Bangkok has a number of excellent options suited to all budgets. Here I introduce you to some of my favourites.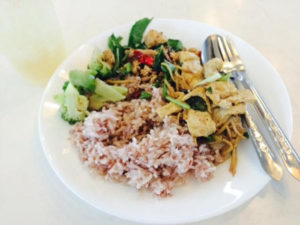 Banana Family Park
Located in the popular Ari district, Banana Family Park is actually more like a big food court where a huge number of vegetarian and vegan options are available.  A number of vendors are selling mainly Thai food although some international options are also available. It's cheap as chips as well as tasty, and although a popular lunchtime option with nearby office workers, the atmosphere is peaceful and calm. They close after lunch though, so make sure to get here early!
Dosa King
Conveniently located close to Nana BTS station, Dosa King is dedicated to serving authentic Punjabi and South Indian vegetarian food. Everything you could want from dosa to thalis and curries is served here with a number of vegan options also on the menu. Everything here tastes delicious and the portions are a decent size. Quite possibly the best Indian restaurant to visit as a vegetarian in Bangkok.
Spa Foods
Spa Foods by the Vegetarian Cottage is an excellent option for those seeking a slightly more upscale dining experience. The menu is based on the concept of "homemade cuisine" while the restaurant itself is decorated in the style of a quaint English country cottage.  As well as Thai food, diners can enjoy a number of international options such as "filet mignon" from the extensive menu. The prices are surprisingly not that expensive either. It's located a little bit outside of central Bangkok near Mo Chit BTS, but well worth the trip!
People who read this also read: