Cha-am Feast Fish Flock Shellfish Festival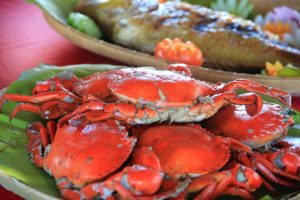 Cha-am is a popular weekend getaway for many Thai families and students. Its main attraction is a long and rather beautiful sandy beach that can be reached within two hours from Bangkok. It's also quite famous for its seafood, and (despite the terrible name) the popular Shellfish Festival is an event that attracts seafood lovers from far and wide.
The annual event is held on the viewing terrace of Cha-am Beach, where you will find a smorgasbord of juicy prawn, fish, crab, squid and shellfish dishes prepared by acclaimed Thai chefs from top hotels in the city.
Besides all the lovely food, the festival provides nightly entertainment for the whole family, including live bands, fairground rides, a food fair, market stalls and a walking street. After dark, visitors have a chance to jump on one of the fishing boats (maximum 10 people per boat) with local fishermen and learn how to catch their own squid for supper. Failing that, the many beachfront stalls and restaurants in the area will be happy to feed any hungry mouths with their culinary offerings.
In addition to seafood eating and squid fishing, Cha-Am's biggest off-season festival called Eat Shellfish Squid Fishing, Bird Watching No.18th Festival (Kin Hoy, Doo Nok, Tok Meuk Festival) will be held here from 10 to 17 September (a kind of a festival within a festival, I guess?) promising to deliver fishing games and bird watching as well as artistic performances by local students. Previous events have featured Thai rock bands, comedians and traditional dancers too, so anything is possible.
The annual Cha-am Feast Fish Flock Shellfish Festival takes place from 1 to 30 September on Cha-am Beach, Petchaburi, which is located 160 km south of Bangkok (near Hua Hin).
People who read this also read: