Ice-skating rinks in Bangkok
Ice-skating is a fantastic way to beat the tropical heat and provides tons of entertainment for adults and kids alike. Fortunately, Bangkok has several ice-skating rinks where everyone is welcome. And while it might be lacking the world-class facilities of cooler (temperature-wise) cities, ice-skating in Bangkok can still be a fun experience for the whole family. So, grab your jumper, bring a pair of socks, and get ready to have some fun on ice!
The Rink Ice Arena at Central World
The biggest shopping mall in Thailand also has a pretty decent ice-skating rink on the ground floor. A 90 minute session costs 260 baht and includes skates and a helmet. It's not usually very busy, so all you have to do is to turn up and you're good to go! In my opinion, the ice quality is reasonable, but of course you do have to set your expectations. This is an ice rink inside a shopping mall and not a dedicated indoor arena, remember. The ice can melt a bit due to the not-so-freezing ambient temperature, although they do re-ice it between sessions, and in general the facilities are well maintained. Kids will love it here, and for the very young ones you can hire cute animal-shaped walkers, such as penguins, to help them along.
Sub Zero Ice Skate Club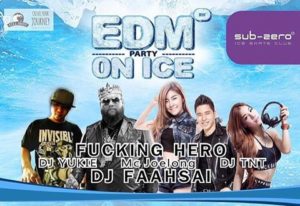 Sub Zero is a large, indoor ice-skating rink in Ekkamai, which provides daily entertainment for all ages. The daytime sessions run between 11:00 and 17:00 and cost only 200 baht per adult and 100 baht for kids during the week. The ice quality is quite similar to the rink at Central World, and it's decent enough for skaters of all abilities and ages to enjoy. However, the real fun kicks off in the evening, when Sub Zero is transformed into a club on ice complete with strobe lights and live DJs on the decks. There is quite a swanky bar providing drinks and finger food, and from time to time they will host special club nights too, featuring house or hip-hop DJs, which tend attract a fairly cool crowd of young locals.
Imperial World Samrong Ice Skating
The largest dedicated ice-skating facility in town can be found 15 minutes outside Bangkok at Imperial World Samrong in Samut Prakan province. Here you will find an Olympic-sized rink complete with facilities such as first-aid, changing rooms and private coaching sessions. This is also where the Thai national ice-hockey team practice (yep, they do exist and they have beaten both Bahrain and India 29-0), so this is as real as it gets. Public sessions run on weekdays from 12:00 to 20:30 and on weekends from 9:00 to 20:00 and cost 250 baht per session.
People who read this also read: