Khao Yai National Park
Khao Yai National Park is a preserved sanctuary of wild animals that thrive in a jungle revered with mesmerizing waterfalls. When one comes close to experiencing Khao Yai, it reveals similarities with the character of the people of Thailand – smiling through the day, brightly sharing a positive outlook in life despite the changing world.
You can reach Khao Yai at 175 kilometers northeast of bustling Bangkok. This park is perfect for tours especially when you want to breathe clean air and grasp the benefits of nature. Fresh fruits are the best anti-oxidants and on your way to the park, stop by the province of Nakhon Nayok and suit yourself with juicy mangoes and rambutans, a fruit like lychee.
Who wants an elephant-ride? Trekking is for the adventurers and when they need rest, a nice elephant ride can make the tour even more exciting. A trained mahout or elephant care taker will guide the entire tour through the lush forest with crystal clear waterfalls and cool streams.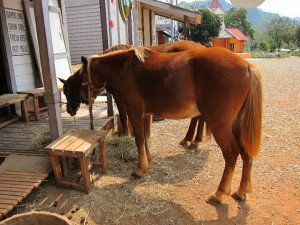 Khao Yai National Park is the oldest yet most kept park in Thailand. It is established in 1962 and since then, it has attracted many visitors because of the peace, tranquility and rejuvenation it brings. It is a 2,172 square kilometer home of families of elephants, leopards and tigers, Malaysian sun bears, black bears, gibbons, barking deer and other wild animals. There are over 320 species of birds here including the exotic great hornbill and Himalayan rib bats. Every animal in Khao Yao is protected by law and sightings of wild birds can be donned to luck or patience.
The Association of Southeast Asian Nations declared Khao Yao as a national heritage site as it serves as a favorable habitat of precious wild life including over 150 species of animals, 70 species of mammals and a breed of 200-300 wild elephants. The government of Thailand is concerned in the protection of these species as well as the forest. It established the Khao Yao Conservation Project in 2000 so that the future generation will still adore the place.
People who read this also read: