Elephant Haven – Sai Yok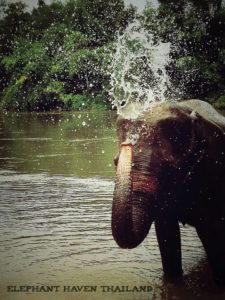 There is a new elephant freedom programme called Elephant Haven in Sai Yok, Kanchanaburi which opened last year, and what a wonderful project it is. The programme helps elephants leave the tourist industry, which exploits them for activities such as trekking and performing, which are known to be highly distressing for the animals. The programme is part of a Chiang Mai based Elephant Nature Park organisation, which has contributed to the rescue and rehabilitation of dozens of exploited elephants over the years.
I've visited a few elephant camps in Thailand, and it always saddens me to see these majestic wild animals being forced to wear shackles and chains all day and perform circus tricks for tourists. In contrast, at Elephant Heaven you can see elephants in their natural element. The saddles and chains have come off and the animals, left to roam free in their natural habitat, can take lovely walks in the lush forests, bathe in the river or even enjoy a cheeky mud bath if it pleases them to do so.
Visitors to Elephant Haven can enjoy getting really close to the elephants. Feeding and touching them, even bathing them and swimming with them in the river. This is unbelievably fun although it can get messy!  Showers and clean towels are provided though, so just take a change of clothes with you if you plan to participate. However, there are no rides and no tricks, just animals being free to enjoy themselves without being forced.
Kanchanaburi is located about 2 hours drive from Bangkok, which makes visiting the Elephant Haven an ideal day trip from Bangkok. By choosing to visit places that are cruelty-free over elephant riding or shows, we can all contribute to sustainable, ecologically-responsible tourism in Thailand, and help save more elephants who are still waiting for their chance to be free.
People who read this also read: